The top 7 foods to eat in Quito, Ecuador and best flavors from the Andean Highlands, and you can find them all in one place.
Not even all the words in the gastronomy dictionary would be enough to explain how delicious the traditional food in Quito is, yet we try. These meals are not only bonded to an incredible taste but to an amazing load of history, which is what makes them worth learning about. Here we talk about:
the top 7 foods to eat in Quito, Ecuador
Surrounded by the most beautiful landscapes and awesome destinations where to go hiking or simply sightseeing, you should probably have found out about Quito as you plan your trip to Latin America. However, there is something else that you'd like to know about such a wonderful place, and this is gastronomy and chocolates; one of the biggest concerns about going abroad is eating, and it's possible that during your research, you are looking for traditional food of Quito and Ecuador.
Although they may look delicious or at least curious, you'd rather pass them along since there is no way to figure out what is happening there. This is why we have designed this must-try list of the most luscious meals that you will doubtlessly find as you walk down Quito's streets and visits the different neighborhoods, so take a look, but for sure you'll not regret finding it out on your own!
Hornado (Slow Roasted Pork)
This a delicious and deservedly popular dish that you really mustn't miss trying; this is the absolute signature meal when talking about food in Quito. Hornado is an entire marinated and carefully prepared pig that has been slow-roasted in a wood-burning oven until the skin is wonderfully golden and crunchy, and the meat is moist, tender, and delicious!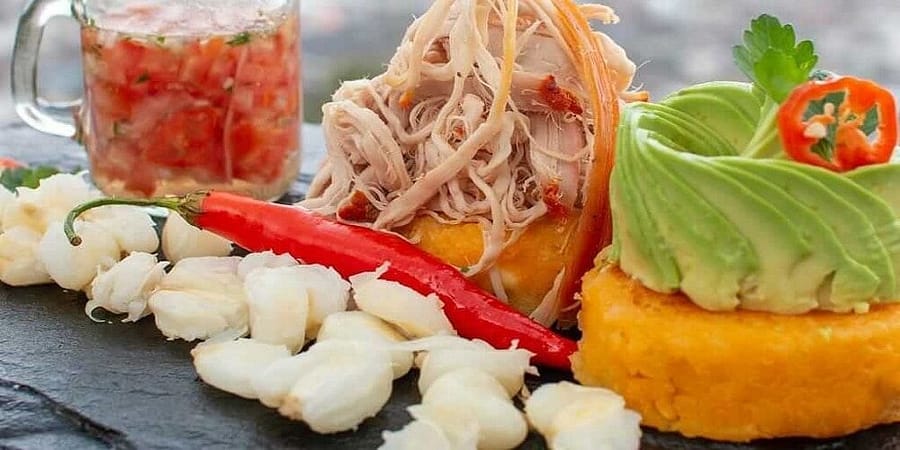 It is traditionally served with "llapingachos" (tasty potato and cheese patties) or simply "tortillas de papa", a lovely light salad of shredded lettuce and finely sliced red onion, "mote" (steamed corn kernels) and diced tomatoes, all dressed with a splash of fresh lime juice. There is always a bowl of hot sauce or "ají" on the table for you to spice up your hornado to taste – though be warned, ají can be eye-wateringly hot, so use it sparingly!
Fritada (Fried Pork Chunks)
Here is another delicious way to try pork meat in this town, and actually this is the one that someone could find on almost every corner. However, different from "hornado", in order to prepare "fritada", a fine and straightly cut pork meat should be minced in mid-size chunks, which are carefully left soaking into deliciously spiced, salted water stuffed with a generous addition of finely sliced red onion, and then slow cooked until it dries.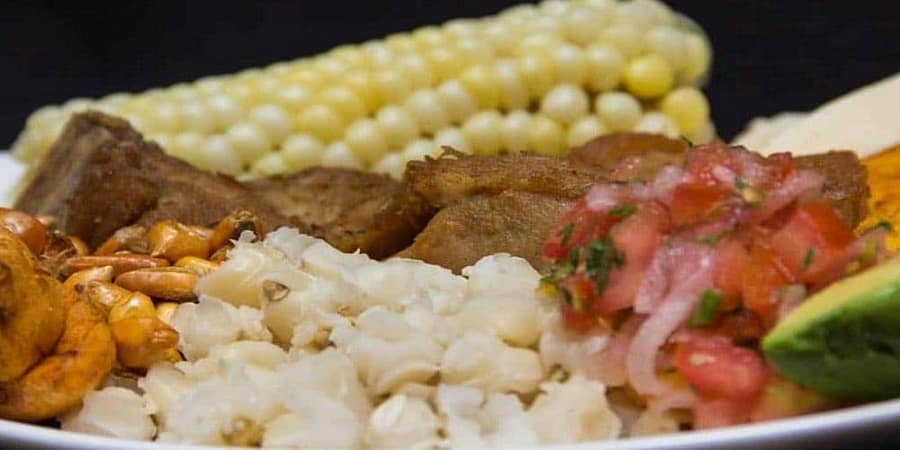 Once the stove starts releasing the unmistakable fragrance of those delicious spices and onions stir-frying, it's time to scramble the pan for a couple of minutes, so "fritada" will be ready to serve with a garnishing of the already mentioned "mote" and "curtido", which is nothing but diced tomato and fine red onion slices mixed together in a few drops of salted lemon juice.
Cuy Asado (Roasted Guinea Pig)
Another traditional food of Quito is a quite peculiar meal from its name to its look, it is what it is; a roasted guinea pig threaded onto a skewer. However, it wouldn't be fair not to give its exquisite taste a chance to captivate someone's feelings. "Cuy asado" is proof of Ecuadorian ancestors' creativity, who made up this whole recipe.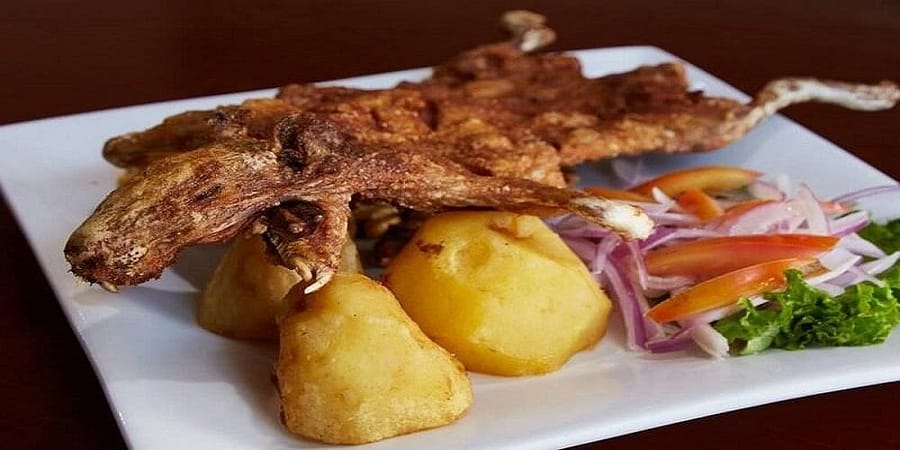 To begin the preparation "cuy" is left to marinate overnight into delectable spices, which makes it ready for the spit-roast, and then delicious dressings are poured over as it goes spinning for about fifteen minutes, so finally, this out-of-the-ordinary skewer will be brought to the table with an Andean-essential garnish of potatoes, nicely resting over a bed of lettuce leaves and tomato slices.
Tripa Mishqui (Mishqui Tripe)
As it might have happened with the last one, this traditional food of Quito, may not be found in Quitos's top restaurants, but like in many regions of the world, Ecuador has produced some culinary masterpieces from the humble stomach of a cow. Very often found as tasty street food, "tripa mishqui" is tripe that has been marinated in a blend of herbs, spices, garlic, and onion and then grilled over a coal-fired barbecue before being served with simple boiled potatoes, "mote" (steamed corn kernels) and the traditional accompaniment of "salsa de mani" or peanut sauce.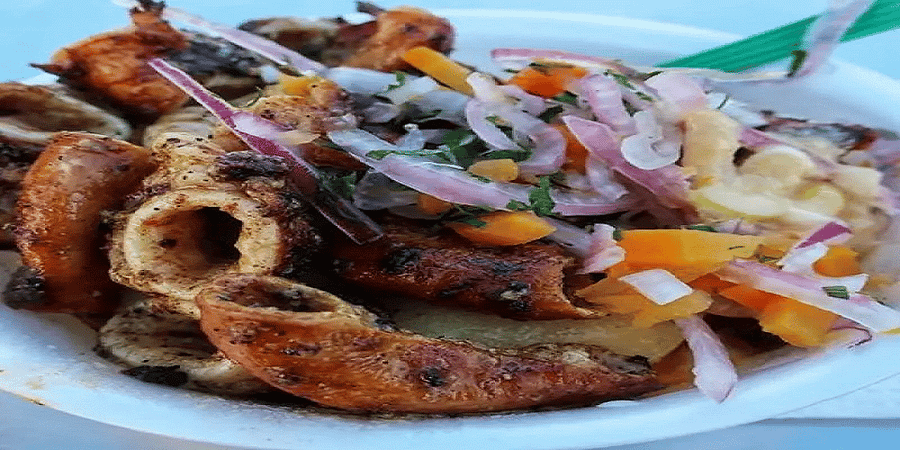 Fanesca (Easter Week Soup)
A variety of native kernels from the Highlands are the ones in charge of making this meal a sacred delicacy, only available during the Easter Week celebrations. "Fanesca" is about twelve different grains from the Andean region like the fore mentioned "mote", beans, lentils, corn, and many more of them, and how these are perfectly mixed together into a simmering foundation of milk and liquefied pumpkin until it thickens.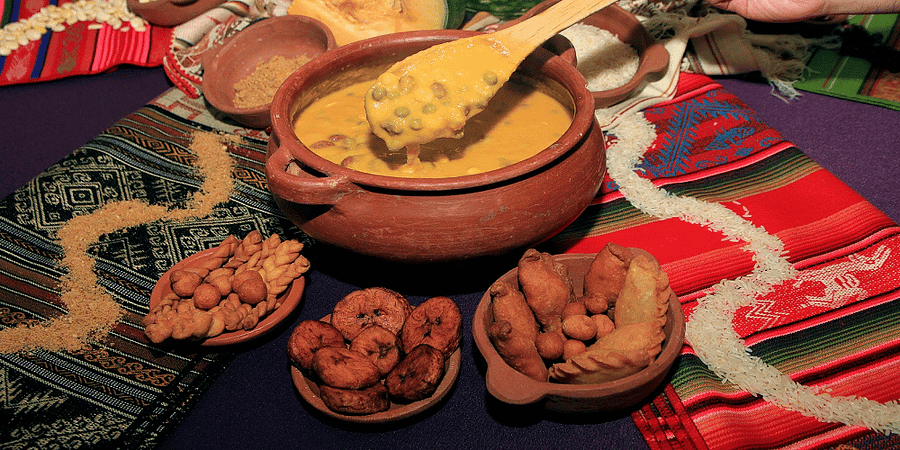 These kernels are not there by any chance, but they are a subtle depiction of the apostles of Jesus, who is also respectfully represented in this meal by the salty codfish added at the end. However, since "fanesca" is a term colloquially used by locals to refer to a mixture of things, but after this meal, these are not all the ingredients that are possible to combine with this soup, there certainly are more tasty toppings to add, like delicious boiled eggs, fried salty dough balls, and even a fancy cilantro stick, which will make it look, rather than food, like a work of art for "La Semana Santa".
Canelazo (Cinnamon Hard Drink)
It's time to move on through our yearly agenda, so now we are on December 6th, Quito's Foundation Anniversary, and as this day gets closer, there is a general spirit of celebration flowing in the air, that you can even get to see people partying on those buses decorated in colorful flashing lights, on the regular basis, and for sure they are having something hard to drink and to enliven the general celebration ambiance.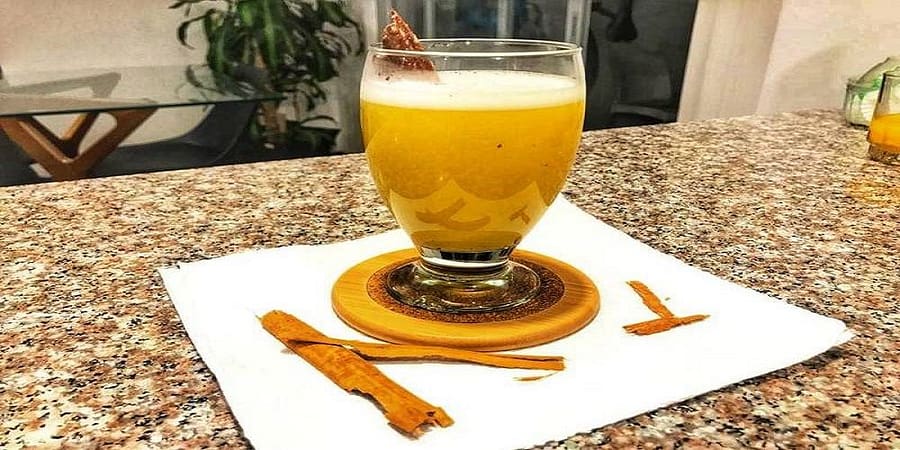 Since most of the parties to celebrate  Quito's Foundation Anniversary take place outdoors at night, this hot cinnamon-tasting naranjilla drink was made to deal with the cold weather of December as the party goes, but be careful while you drink it because it also contains aguardiente, and its sweet flavor can be mesmerizing.
The top 7 foods to eat in Quito, Ecuador doesn't end here, you will find far more to taste.